Marketing guy 1: I'm sorry boss, I just haven't come up with anything.

Boss: Unacceptable! There HAS to be a way to connect Transformers and M&Ms!

Marketing guy 2: Well, maybe we could go with some kind of metaphor about exoskeletons and candy shells...

Boss: Metaphor?! What's wrong with you? Metaphor means BREASTS. Robots don't have breasts!! *claps* Bring me the Google!

*one Googling later*

Boss: Hm, what's this "uncanny valley" thing here?

Marketing guy 1: The Hollywood Dictionary says, "The difference between Wall-E and Final Fantasy."

Boss: Wall-E was number 1 at the box office! Ok, go with that. *leaves*

Marketing guy 2: So, we... try to make people uncomfortable about M&Ms?

Marketing guy 1: I guess so.

AND SO THE NIGHTMARE WAS BORN: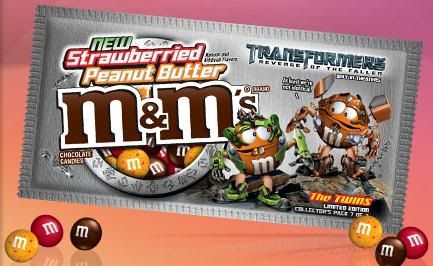 They're actually not that bad, if you can tolerate artificial strawberry - think peanut butter M&Ms with a sip of Strawberry Quik. I give them a 4 on the, "How can the laws of physics allow for such a thing?" scale (Goober Grape is a 3; Ashton Kutcher is an 8).